MySuites + NEW YORK DESIGN WEEK, ICFF 2012: The NoMad Design District
NOMAD DESIGN DISTRICT presented by MySuites, May 17-22, 2012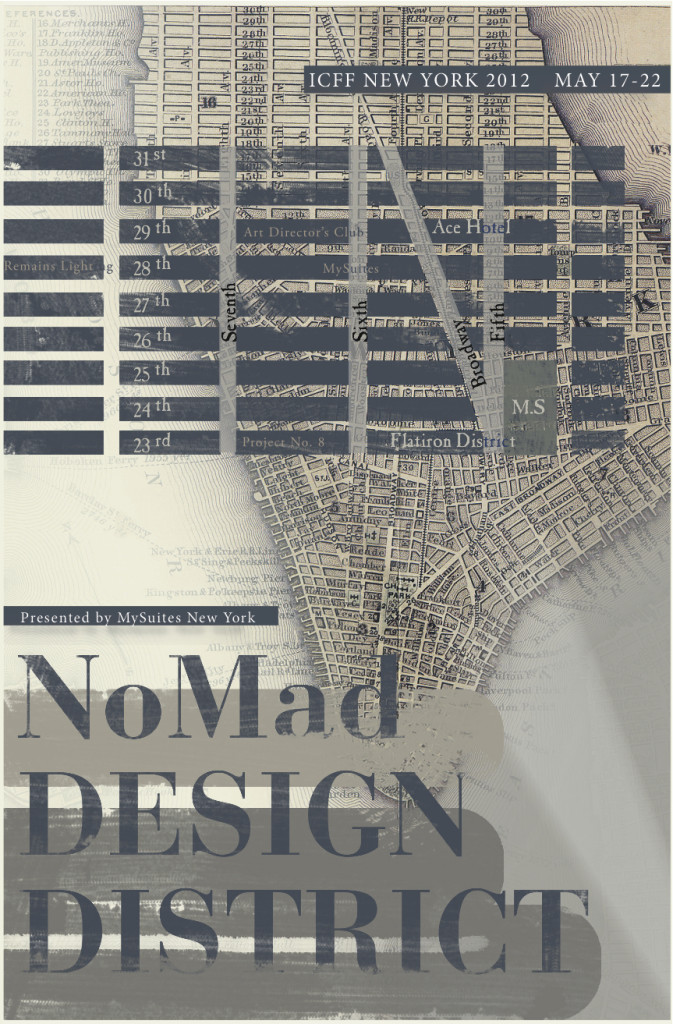 This year,
MySuites
is hosting it's first event for New York Design Week,
 The NoMad Design District
on May 17-22.
Due to our passion for the most authentic neighborhood in the city–and the home to our studio, the NoMad Neighborhood–we came up with a very ambitious idea: to put the NoMad Neighborhood on the map as THEE next design district in the city.  Actually, it's not so ambitious after all, since it is in this neighborhood where all the cutting edge design and culture is going on–home to the hip Ace Hotel, Project no. 8, Opening Ceremony, acclaimed architect/design firm Hariri & Hariri, Eataly, and the new NoMad Hotel by designer Jacques Garcia, just to name a few.   In fact, who knew our creative director and designer, Leonardo Annecca, and Jacques Garcia would be working literally a block away after working together in the past on hotel projects including the Hotel Victor Miami and the Wynn Resorts in Las Vegas.  Such a small world!
But going back to the NoMad Design District; it's a circuit of installations, collaborations, and special events for innovative design studios, design retailers, and emerging local design talents in the NoMad neighborhood.  An event where the NoMad neighborhood will be transformed into a destination for design, creativity and culture.
The wood+light exhibit aims to bring to light local emerging Brooklyn designers, where the design itself is expressed by a simple gesture for conception and manufacturing.
Wood and light is something we chose as an authentic expression of the Flower District in the heart of the NoMad Design District; It was our mission to find local designers compelling to the texture and patterns of the Flower District.
The 4 selected designers are an authentic message of New York Design–each with their own unique style, concept and aesthetic.
Hope you can come check it out!