Locations we love
Our locations
We believe that a truly authentic New York experience is 100% based on location. That is why we meticulously scout prime locations, in Manhattan and Brooklyn.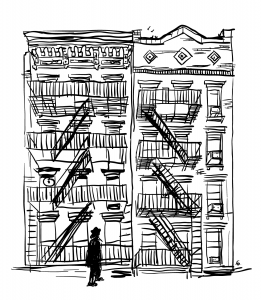 The concept
We offer fully furnished, serviced apartments, styled with design and designed with style. We also offer many services typical for a boutique hotel, but we are not a hotel.
We created "The Suite Life", plain and simple. We are from Europe, but we are made for New York City. We mean it, we live it, and we share it. 
The Suite Life is not only about designing small spaces, or apartments for Airbnb – it's a lifestyle. It all starts with the home, the way you travel, and the way you move, eat, and do fitness. It's a lifestyle of the new Nomad generation.
We're looking to provide a different type of hospitality for a stylish nomad generation that is constantly on the move. We view design as a cultural influencer, not as just 'the empty word' of luxury.
The business model
We offer boutique suites and apartments in buildings dedicated to corporate housing, relocations, or short terms leases. Each of our dwellings meet the codes of the NYC law for short term rentals or furnished rentals.
We offer a full package of services during your stay, like concierge, fitness, spa, maid service, personal drivers, and many more, and you only pay for your stay or the services that you use.
Membership leases
MySuites strives to offer a stylish, safe, and legal home away from home by offering membership leases.
We want to protect you and guarantee your rights, so that you can enjoy a serene stay in the city that never sleeps.
We offer the Pied a Terre lifestyle to the people who want to have a home in New York without all the hassle or the price. We offer a membership and all the rest is taken care of. Plain and simple.
A Digital Nomad's home
For about 8 years MySuites has been my go-to home in New York. As a digital Nomad from Europe, I am always on the move, and the My Suites crew feels a family 'on the other side of the pond'!
New York City Girl
"This must be it. This must be the ultimate I'm-a-New-York-City-girl-now feeling. Staying in your awesome apartment in the beautiful and cozy neighborhood West-Village you'll experience this like nowhere else."
Living like a local in New York
"Living like a local in a city like New York has always been a distant dream for me… but when I extended my stay in New York and needed somewhere to stay for two nights, My Suites was the perfect chance to feel like a New Yorker… even if it was only for 48 hours!"
Perfect Solution
"MySuites was the perfect solution to be a local for a couple of days, while still following my passion of "boutique" environments around the world. All of his 14 apartments in Manhattan aim to make guests feel connected to the time and space that they are living in, engaging them with a story that is connected to the three key elements – the building, the neighbourhood, and the city."
MySuites is proud to be featured in the May 2014 issue of Elle Decor in Belgium! This is the sister magazine to the famous fashion mag, Elle Decor focuses on interior design, decoration, home renovation, shopping, celebrity style, travel and
Request a MySuites Membership Lease
With a MySuites membership lease you will have the best suites on offer at all times.
Always a home away from home!