NEW YORK CITY BY THE BLOCK: Great Jones St.
NEW YOR CITY BY THE  BLOCK: Great Jones St.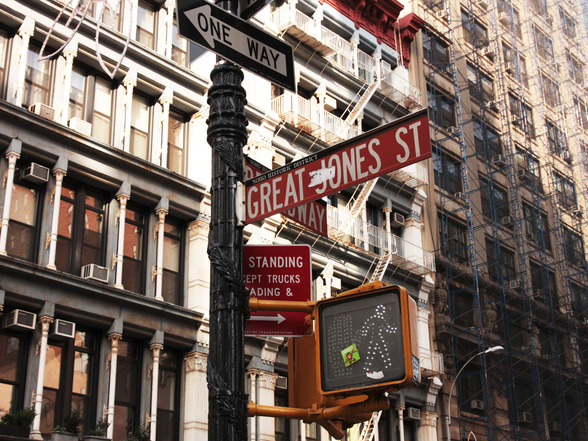 While New York City has an unparalleled amount of unique places to see and visit throughout the city, you'd be surprised of the things you can find in one street, in one single block.  It might seem bogus, but in reality you will amazed of the little gems that you can stumble upon…Head to Great Jones St. and explore the "new" Bowery home to the hip Nolita Design District.

The Future Perfect

: begin at Dave Alhadeff's design mecca, The Future Perfect, where you will find only the best in decorative arts from designers in New York and around the world. A mix of old and new design elements—playful but sophisticated.

The Great Jones Cafe

 (Est. 1983): grab a bite in this shabby-chic alternative neighborhood joint. Serving Cajun eats, it's a must for brunch—and it's cheap too! You will most likely wait a bit for a table, but once you're seated, you will get nothing but delicious food in casual environs!  Don't miss the jukebox that still plays vinyl records.

The Great Jones Spa

: who doesn't need to relax, and Great Jones Spa is the spot to do it!  Famous for their one of a kind, world renowned wet lounge facility—a three story waterfall solarium overlooking a thermal hot tub & cold plunge pool—it's a holistic spa unlike any other in the city.  Aside from the chic décor, you will leave stress free and "decompressed".

Partners & Spade: stay on Great Jones St. and pop into Partners & Spade – former founder of Jack Spade's gallery showroom for art, objects, and unusual projects.  It just opened and it's only open to the public on the weekends.

Il Buco's Alimentari & Vineria: finally, head over to Il Buco's newest addition,  Alimentari & Vineria—a market, salumeria, bakery, enoteca and restaurant.  With all the fresh and tasty things, it's perfect to get all you need for dinner. Simple deliciousness!

Where To sleep: The Bowery Suite by MySuites

You will love The Bowery Suite as much as you will enjoy exploring the Bowery neighborhood.  Sleek and ultra chic, it's perfect for hosting that anticipated Thanksgiving dinner and spending the rest of the weekend with friends and family in a brightly lit NYC.

For those who like to dine out, Gemma at The Bowery Hotel is your best bet for a Thanksgiving dinner.  We were there last year and we were impressed—great Italian food, the place is warm and cozy—just what you need for the special holiday!