04 Mar

Shops WE LOVE (West Village)
Rag and Bone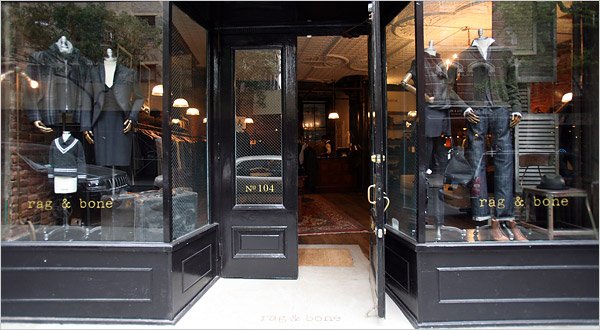 Britain and America collide in the most modern, melancholy manner at Rag & Bone. The space rests humbly between Bedford Street and Bleecker Street. While small, each inch is unitized, creating an intimately chic experience. With the exposed brick walls, racks of monochromatic apparel, and subduing music, you'll feel as if you're in a music video for The xx, and who can resist that?
rag-bone.com – 104 Christopher St
Otte NYC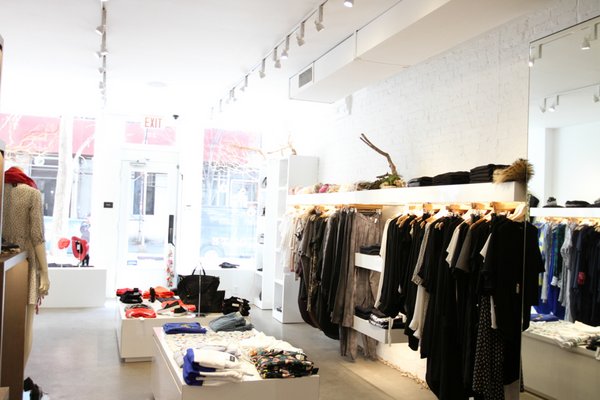 With the signature West Village emerald green paint job, Otte NYC is unsuspecting at first. But once you're inside, you'll feel as if you've been transported into the hippest of fashion design studios. It's apparel meets art. The all white interior makes the space feel expansive–lively. The apparel and accessories are displayed on elongated white tables with a minimalistic approach, allowing you to fully appreciate each piece's aesthetic. After all, it's an experience in of itself.
otteny.com – 37 W 26th St
Annie Bing
Light and airy yet bold is the best way to describe Anine Bing. The space's light wood floors are offset by the dynamic black metal accents, such as a glass case with black trim and black cube divider. With a focus on monochromatic apparel and footwear (think black leather Chelsea boots), you'll feel like Alexa Chung as you browse (and possibly buy) the carefully curated pieces.
aninebing.com – 330 Bleecker St
Billy Reid
Placed on the neighborly Charles Street is the mise en scène of essentials–Billy Reid. The shop's design conveys this mindset, too, with its wood paneling and white built-in bookcases used for displaying the accessories. It's a look that never goes out of style, just like the apparel. From stoutheartedly crafted knitwear to olive green leather backpacks with cordovan straps, each piece is designed for a day around town or a weekend trip to the mountains. It's where chicness and durability meet, because, after all, it's all about versatility here.
billyreid.com – 94 Charles St
Saturdays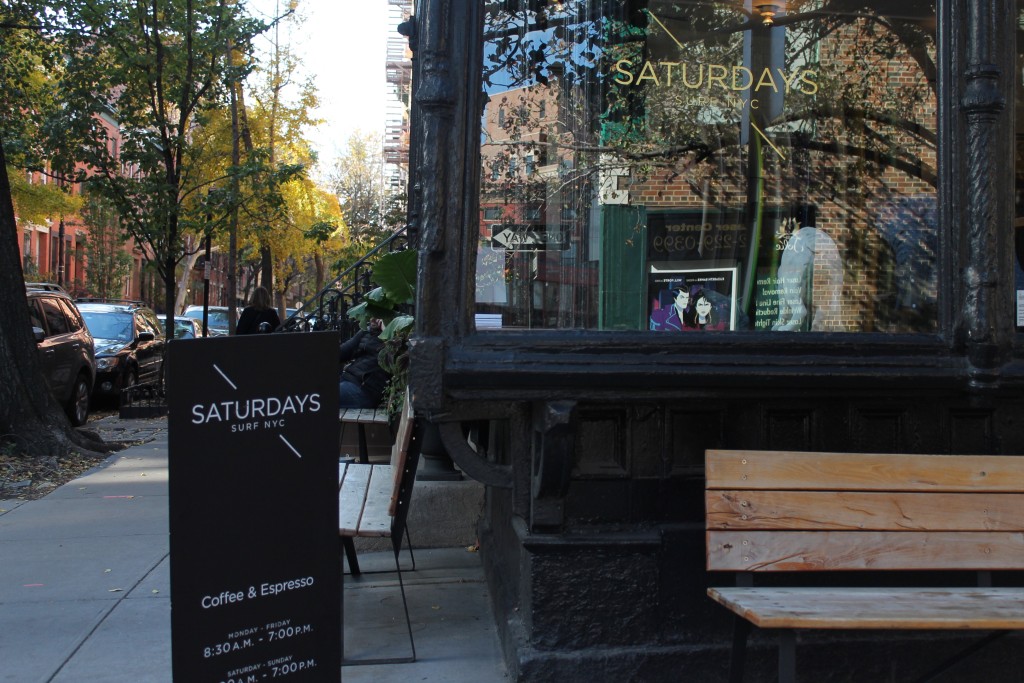 Coffee connoisseurs and lovers of West Coast-inspired apparel can rejoice, because Saturdays encompasses both. And if you thought the medley couldn't get any better, the interior design proves otherwise. Lined with large windows with built-in wood benches and wood shelves with piping for support, it's industrial meets classic. While you admire the space, don't forget to order a latte to accompany you as you browse the clothing or simply as you sit and read. Also, don't forget to snag one of their signature Saturdays shirts before leaving.
saturdaysnyc.com/west-village – 7 Perry St
Castor and Pollux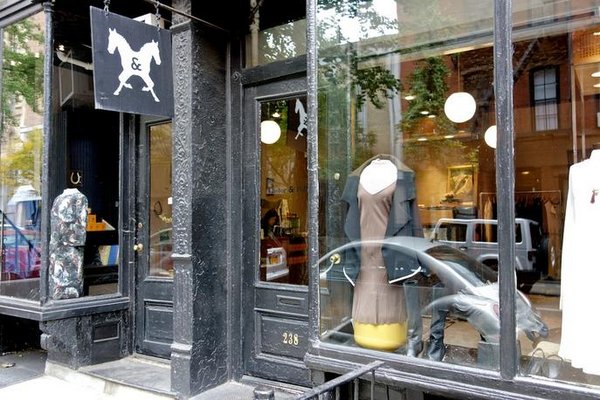 With the belief that our choices can "transform our lives into something richer, fuller and more complete," Castor and Pollux brings that notion into their designs. Everything is aesthetically pleasing, yet there is always something odd–unexpected. And that's the intention, to use duality, just like in Greek mythology, to create unity. And unity brings us to family, which is also a tremendous influence behind the company. Everything is inspired by a family member. We especially love their (Aunt) Maggie Bracelets birthstone collection. Each one is 100% brass and has a story to tell. When your aunt wears something for forty years, you know it's worth investing in.
castorandpolluxstore.com – 238 W 10th St
Aloha Rag
Minimalism is the forefront of Aloha Rag, the Honolulu store full of well-known designers as well as up-and-coming ones. The space is copious, having a renovated warehouse aura with its translucent grey walls and maple wood floors. The store's inventory of both big and small names make it notable without being daunting. Contemporarily stocked, with designers such as Yoshinori Kotake and Ar Srpls. Plus, they hold a lot of sample sales. Need we say more?
505 Greenwich St
Ovando
The neighborhood's most acclaimed floral design and event production firm rests humbly on Christopher Street. Its efflorescent creator, Sandra, uses her Spanish and Russian heritage to develop her passion for the brightly exotic. Each piece is artful, which is why she's done floral designs for The MoMA and Hermès. Her Fall Collection, focusing on both blooms and foliage, is sleek and warming. One of Sandra's favorites, Fall Textural, is one of ours, too.
ovandony.com – 91 Christopher St
Maison Margiela
Resembling a warehouse-turned-loft, the leading Belgian designer creates an interior masterpiece in an unsuspecting space on the corner of Bleecker Street and Charles Street. The meager whitewashed walls and exposed piping creates the perfect combination of minimalism and dynamism. With a mix of neons and neutrals, the apparel pops against the interior design, making it feel as if you're viewing art pieces rather than clothing. But isn't fashion just an extension of art, anyway?
maisonmargiela.com – 363 Bleecker St
James Perse
Using his Los Angeles upbringing as the muse behind his creations, James Perse introduces luxe to practical. And it works. His love for the casually sleek also influences the interior design, making a space that is minimalistic yet punchy. The moodily vibrant atmosphere will make you feel like you're on the West Coast, so why not invest in one of his original designs, loved by LA filmmakers and musicians alike, the Trucker Hat. The Double Face Knit Trucker Hat in black is our personal favorite.
jamesperse.com – 368 Bleecker St
Double RL
For a true American shopping experience, Double RL is a must. Their West Village location is nestled in a cozy block on Bleecker Street, giving a nostalgic aura to everyone who grew up with the brand. The space reminiscent of some cottage nestled on Connecticut's coast with its plaid blankets draped over leather reading chairs and sturdy wood floors. If you long for something cozy and sophisticated, Double RL is idyllic for you.
ralphlauren.com – 81 Bleecker St
Goorin Bros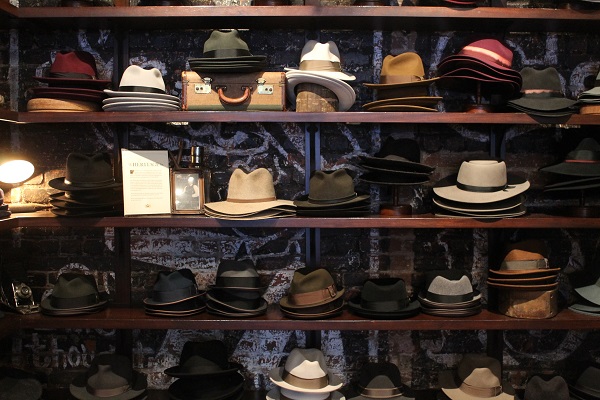 If you love sturdy, chic wide-brim hats, you'll love Goorin Bros.. The shop began in Pittsburgh in 1895 with Cassel Goorin on a horse-drawn cart that was spilling over with hats he lovingly crafted. Sans the horse-drawn cart, not much has changed. Rich in history, the space is a nod to late 1800's interior design and the employees dress accordingly to the era, too. Stop by Goorin Bros. before a day at Central Park, or any day, for that matter.
goorin.com – 337 Bleecker St