04 Mar

Bars WE LOVE (West Village)
Fedora
For an intimate evening out, get drinks at the French-American style bar, Fedora. Its moodily chic atmosphere will allow you to uncoil the day's responsibilities as you settle into one of their tufted black leather booths. And we can't forget their à la mode cocktails. For weeknights, order something under First Dance. We love The Giddyup (Aperol, Amaro, Montenegro, Lemon, Apricot). For weekends, go for something under Shake That Body–Theatrical Teaser Trailer (Tequila, Vida Mezcal, Brovo Doug Fir, Lime, Pineapple)–or Darkness on the Edge of Town–Joyce Carol Oates Writes Good (Bourbon, Amaro, Spice). You'll dance home with a little bit of edge in each step.
239 W 4th St
The Garret
Latent above the notorious burger joint Five Guys is the speakeasy West Villagers can't stop talking about (in hushed voices, of course). And with good reason. The space is somber and sleek. adorned with two colossal skylights, tufted leather couches, and wooden stools and benches. Oh, and we can't forget the taxidermy rhino head. As for drinks, order the Rosarita Stick Up (rosemary, thyme syrup, egg white, lemon juice, and Grand Meriner topped with rose petals). The beautiful concoction was created exclusively by one of the bartender's.
2nd floor, 296 Bleecker St
Little Branch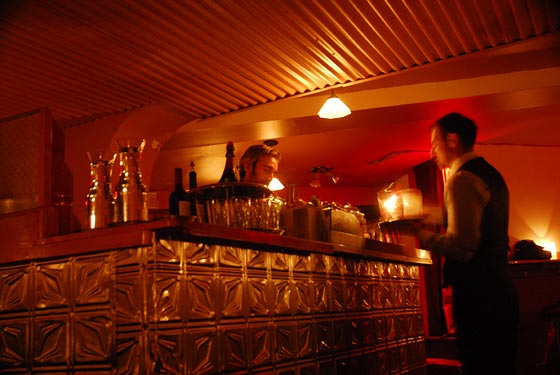 With homage to "the old rules," Little Branch is an experience in of itself. The space is warm and snug, with mustard-painted walls and an orange ceiling made with corrugated steel. The stuff is both friendly and determined, smiling at costumers while briskly mixing drinks. The cocktails are mainly old-fashioned, such as their Queens Park Swizzle (Trinidadian version of a mojito). And don't forget to ask your bartender for some recommendations based on the liquor you favor, because Little Branch has a book chalk full of them.
20 7th Ave S
Wilfie & Nell
With its exposed brick, tattered wooden bar, and tufted black leather seating, Wilfie & Nell is mysterious yet cozy. And its drinks are so, too. We love their unconventional take on a margarita with their Spicy Margarita (Tequila, Habanero Agave, Lime, Grapefruit Juice). It will undoubtedly add a kick to your night. Now, for something light and refreshing, order the Aperol Spritz (Aperol, Prosecco, Soda). Whichever way you prefer your drink, it's only the best here.
228 W 4th St
Cornelia Street Cafe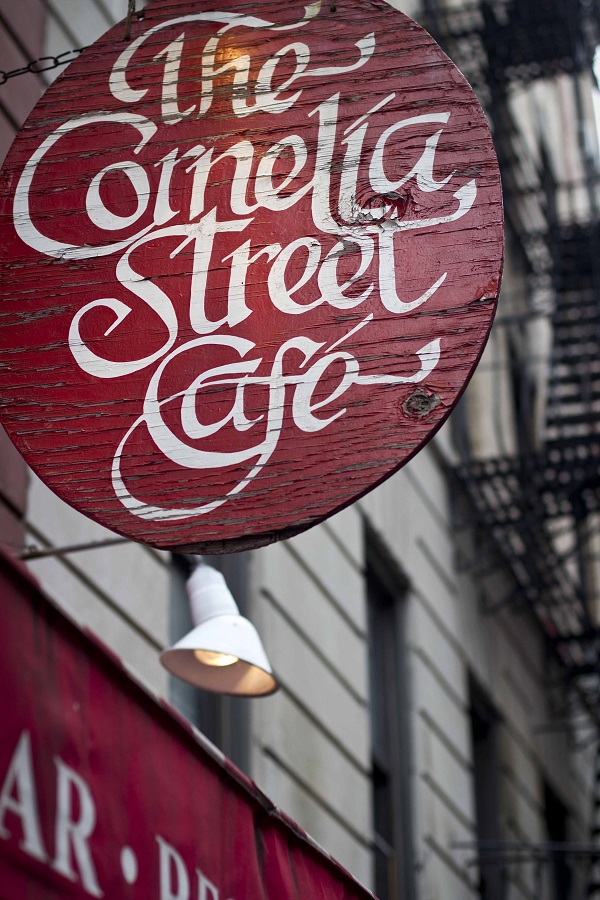 While quiet at first, Cornelia Street Cafe livens up once the jazz begins. And when it does, you'll be transported to some street corner in the lustrous 1930's. "A culinary as well as a cultural landmark" indeed, their cocktails are something to be had. Try their Cornelia Red Sangria (Red Wine, Apricot Brandy, Fresh Fruit) and share one of their appetizers with a friend, like the Three Artisanal Cheese Plate (Mission Fig, Apricot Chutney, Crouton Toasts, and Spiced Nuts). Sip and munch as the saxophone player flies—metaphorically speaking, of course—you from New York to New Orleans.
29 Cornelia St