04 Mar

Restaurants WE LOVE (West Village)

Whether you've lived in the city all of your life and are in need of a staycation, or you are experiencing it for the first time, there is this never-ending excitement in discovering a new restaurant or café. Our Christopher Suites, located in the bohemian-esque West Village, are surrounded by superb places to eat and drink. That being said, here is a list of our favorites, and we hope that they become some of your favorites, too.
Breakfast and Brunch Time
Buvette
Located on cozy Grove Street, Buvette is the ultimate breakfast and brunch spot with French roots. Their rich wood and exposed brick interior will make you feel as if you are at their café in Paris, especially with one of their ambrosial espressos in hand. To top off that espresso, try one of our favorite savory plates of theirs: CR Q Monsieur (a classic ham and gruyere on toast). Or, if you're in the mood for something with more protein to help you begin your day, Poached Eggas (poached egg over lentils and kale) is the perfect medley of rich greens, legumes, and a runny egg to keep you going. We also love Frits à l' amèricaine (sunny side egg with bacon and sage). The sage adds an innovative take to this very classic breakfast dish and we absolutely love it!
42 Grove St
THE ELK
THE ELK not only fulfills all of your minimalistic design dreams, but it serves the kind of envy-worthy dishes you've seen on social media a thousand times before. But first, their dreamy coffee. You won't be able to help but get some since their walls are lined with wooden shelves holding bags upon bags of coffee, spilling the aromas into the space. Start your order with a macchiato and thank us later. After that, try their Avocado Toast. Its roasted pepitas make it different than any smashed avocado you've had before in the best way possible. For something a bit lighter, get their Granola. Or, for something sweet with a healthy twist, order Grapefruit Brulée. Don't forget to take a picture (or a hundred) for your social media platforms, too.
28 Charles St
The Little Owl
With its vibrant exterior and intimate interior, The Little Owl is the perfect balance of excitement and warmth. And its savory plates are just that. After a late evening out on the city, go here for brunch and leave feeling revived. Each dish will satisfy any late night craving from the night prior. We love Crispy Cornish Hen (Brussels sprouts home fries, sherry, and dijon), Bibb & Beets (squash, spicy pepitas, and parmesan), or Chilaquiles (with avocado). Also, don't forget to split some beignettes with nutella and raspberry while you wait for your main dishes.
90 Bedford St
Lunch Time
The Spotted Pig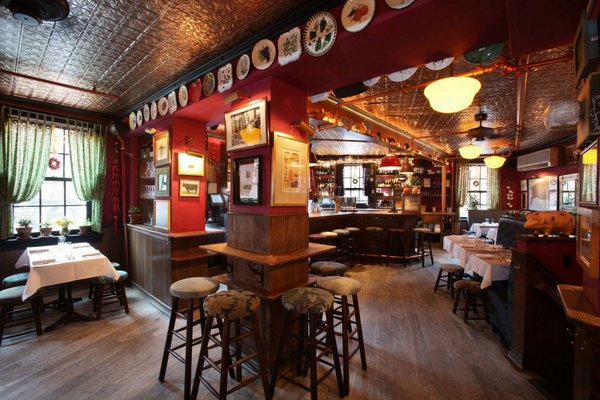 This is New York City's first gastropub (opened in 2004) and it is still a celebrated spot among both locals and travelers. Don't let the neon magenta exterior fool you. Once you step inside, you'll find an airy space with exposed brick and rows and rows of tables topped with white tablecloths. The atmosphere is fun and adventurous, and you'll feel likewise so order accordingly. For all of your carnivore needs, try: Pork Rillete with Mustard, Pickles & Toast; Crispy Pig's Ear Salad with Lemon Caper Dressing; Skirt Steak with Creamed Kale & Sauteed Wild Mushrooms. For a more Americana meal with a French twist, order the Chargrilled Burger with Roquefort Cheese & Shoestring Fries. You'll walk out with vigor in your step, we're certain of it.
314 West 11th St
Red Farm
Do you ever get the desire to go to a farm but don't want to make the trek out of the city? Us too. Which is why we love Red Farm, a rambunctious Chinese fusion restaurant located two blocks from the Hudson River. It's a renovated townhouse with rafters and banquettes. What we love most, though, is its barnyard accents, such as wooden crates and a mural of docks. You will feel as if you are in some rural town upstate rather than the West Village. The menu is eclectic, with dishes varying from Spicy Crispy Beef—which will get you out of that afternoon lull, Shrimp Stuffed Jalapeno, Pan Fried Pork Buns, Dumplings, and Wide Rice Noodles BBQ'd Roasted Duck. Come with an empty stomach and leave feeling satisfied until dinner!
529 Hudson St
Rosemary
A hidden Italian gem undoubtedly, Rosemary serves up the most enticing Mediterranean dishes in the West Village. Named after the owner Suarez's mother, the restaurant is inspired by her home in Lucca, Italy as well as the neighborhood. With parquet tabletops that are long and shared with other guests and the rooftop farm, you'll feel as if you are in Suarez's home. For a classic dish, order the Linguine (preserved lemon, pickled chili, parmigiano) or the Cavatelli (Eckerton Hill Farms heirloom tomatoes, basil, parmigiano). For something less traditional, try Rosemary's Burger (beef, prosciutto and guanciale burger, magic spice ketchup, provolone, Rosemary's potatoes) and make sure to pair it with a glass of Brigaldara Valpolicella.
8 Greenwich Ave
Dinner Time:
The Lion
A sanctuary for bon vivants, John DeLucie's The Lion has everyone dining and writing (reviews). Its interior is something out of some early 20th century lord's home, with its walls covered in framed art pieces, ranging from photographs to ostentatious oil paintings. The seating is just as mottled; there are pews covered in pillows, forest green leather booths, and mingled wooden chairs, creating a tranquil dining atmosphere. The menu (best for carnivores) is reflective of the space, alternating from Smoked Berkshire Pork Chops (brined & smoked, slow cooked collard greens, bacon), Chicken Pot Pie (seasonal vegetables, béchamel sauce), and Reginetti (lamb merguez, pistachio, ricotta salata). End your time at The Lion with The Peach Semifreddo (blueberry compote, thai basil). If there is one place where sharing is optional, it is here. And thank goodness for that.
62 W 9th St
Waverly Inn
Another one of John DeLucie's inventions, Waverly Inn is the archetype of the West Village's aesthetic. Its bohemian space will have you feeling as if you are only a table away from the Beat writers Jack Kerouac and Allen Ginsberg. The menu is posh yet raffish, a mirror of the neighborhood. We like Amish Chicken (potato terrine, bitter greens, balsamic-glazed cipollini and a mustard jus) on regular days, and Grilled Octopus (peanut potatoes, green goddess and lemon) on days when we are feeling exceedingly more adventurous. Whatever day it is for you, make sure to order a side of the French Fries or Grilled Asparagus. And don't forget to bring your copy of On the Road to read while you wait for your food.
16 Bank St
Bar Sardine
After an evening of attending a Broadway show in Time Square or an art gallery in Chelsea with friends, make your way to Bar Sardine. Its parquet floors, low wooden stools, and chalkboard wall for a menu make it seem as if you are arriving at a second home. We love its Late Night menu, and you will too when it's midnight and your stomach begins to growl. For something light—a snack of sorts—order Little Gems (heirloom cherry tomatoes, castelvetrano olives, walnuts, blue cheese). If you're especially ravenous, get the Fedora Burger (smoked cheddar, crispy potatoes, cucumbers, and BBQ mayo) and Herbed French Fries (maple-mustard aioli). Leave this home away from home and return to yours feeling contented.
183 W 10th St
L'Artusi
For a modern perspective on Italian cuisine, dine at L'Artrusi, named after the 19th century Italian businessman and writer, Pellegrino Artusi. It is notorious for being the best Italian downtown, and we have to agree. With its marble countertops and charcoal walls, it is both sophisticated and moody, and its dishes are just that, too. For a pasta, order the Ravioli (butternut squash, brown butter, sage, parmesan). If you want something with a bit more provision, we love everything under Carne, but our personal favorite is the Roasted Chicken (hen of the woods, scallion). It is such a simply plate, yet you will find yourself dreaming about its sapor for the weeks to follow.
28 W 10th St
Sant Ambroeus
Residing in the heart of the village, Sant Ambroeus brings the finest Milanese dishes to New Yorkers and travelers alike. Its Milanese atmosphere and decor only add to the allure, with deep red booths and walls covered in exquisite frames from La Scala, Milan. Chef Andrea Bucciarelli carries the northern city into the dishes, as well. We adore their Caprese (kumato tomato, buffalo mozzarella, fresh basil, extra virgin olive oil). The buffalo mozzarella adds a nice punch to this classic plate. For something more healthy and hearty, try their Quinoa Sant Ambroeus (organic quinoa, cauliflower, salsify, sun-dried tomato, pickled onion, and shaved Brussels sprouts). Also, we can't forget their Risotto Al Parmigiano (36-month aged Parmigiano, Reggiano and "Villa Manodori" balsamic vinegar). When the waiter comes to take your plate, you'll find yourself making sure you got the very last bite.
259 W 4th St