01 Mar

Restaurants WE LOVE (SoHo)
Little Prince
The cozy French bistro is a staple in the neighborhood. With their vibrant floral arrangements and floor-to-ceiling windows, it's understandable why so many people swear by this lunch spot. Known for their steak, we highly suggest ordering the Steak au Poivre. Or, for something a bit lighter, the Steak Tartare.
littleprincesoho.com – 199 Prince St
The Dutch
Don't let the name fool you; The Dutch is completely American cuisine and knows it, too. With a passion for creating food while building their community, everything here just tastes so good. And if you're the fickle friend when it comes to ordering, try their tasting options, which allows you to get an assortment of menu items, like our personal favorite, the Beet & Avocado, Cashew Curry, Crispy Lentil Mushroom Soup, Truffle Cream, Parmesan Steak Tartare on Ale Toast.
thedutchnyc.com – 131 Sullivan St
Bread Nolita
Bread Nolita is exactly what it sounds like: a lot of really, really delicious carbs. This quaint parlor takes freshly baked bread (and that's not even the best part) and pairs it with items that miraculously take to you a whole new level of sandwiches and pasta. We suggest going for the simplistic and ordering the Homemade Linguine (Pesto, Pine Nuts, and Parmigiano). It's a true Italian staple.
bread-nolita.com – 20 Spring St
Jack's Wife Freda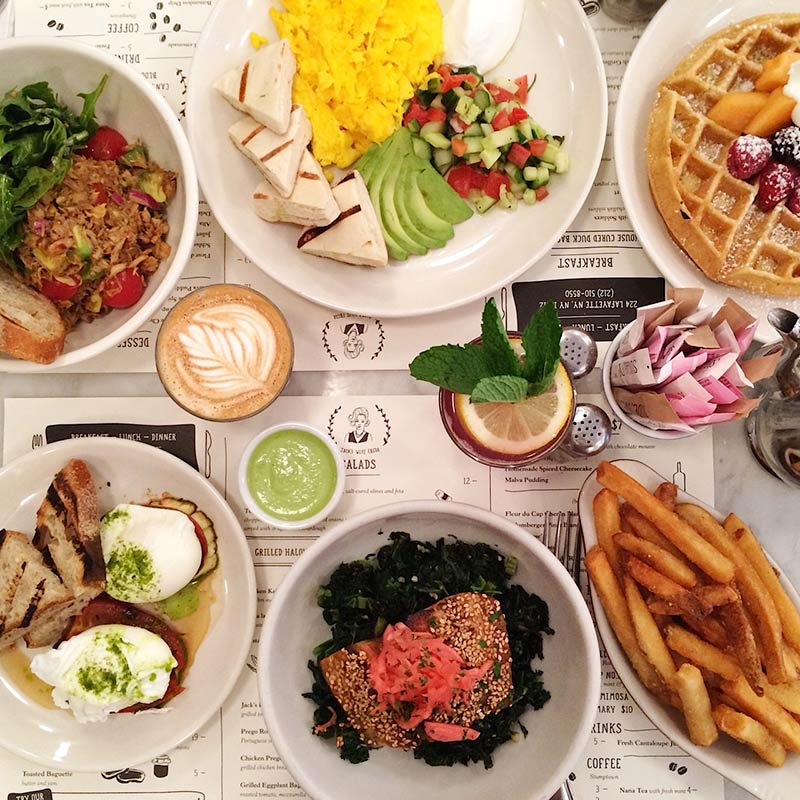 You haven't been to SoHo yet if you haven't dined at Jack's Wife Freda. Seriously. The husband and wife owners know how to create photograph-worthy dishes with table setups that only add to the need for documentation. For something filling and savory, get the Avocado Salmon Toast. Or, go all out with the Madame Freda (Pressed sandwich with duck prosciutto, cheddar béchamel, gruyere & a sunny side up egg).
jackswifefreda.com – 224 Lafayette St
Cafe Gitane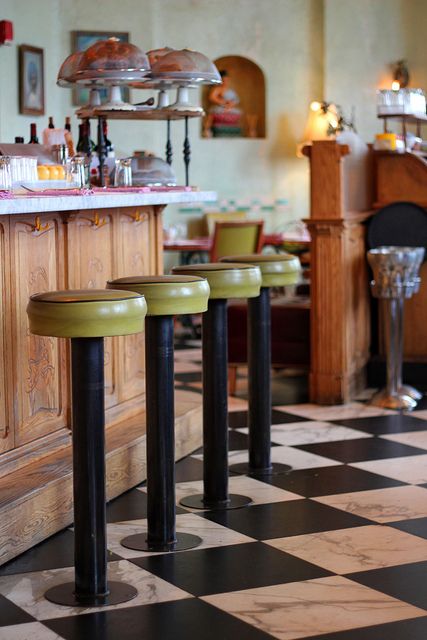 Founders of the ever so popular Smashed Avocado have the SoHo scene constantly buzzing about their Mott Street location. The Parisian styled Cafe Gitane is far more than simply avocados and toasted bread, though. We love their Moroccan couscous with red peppers, potatoes, raisins, toasted pine nuts, hummus and eggplant with organic chicken with Merguez sausages paired with a cup of Iced Hibiscus Tea. Also, don't forget to check out their eclectic wall art.
cafegitanenyc.com – 242 Mott St
NoMo Kitchen + NoMo Library
Taking a step in NoMo Kitchen is like taking a step into some subtropical land. And with a library, too. This foliage-bedizened restaurant serves up zany and mouth-watering dishes such as Hedgehog Mushrooms, Ravigote Lobster, and Pernod Jus. Can't decide what to get? Split a few with some friends and prepare yourself for a taste bud journey.
nomosoho.com/dining – 9 Crosby St
Ladurée Garden Tea
The grand and elegant Ladurée Garden Tea is the idyllic meeting place for a close friend. This French luxury bakery is best known for their delicate and delicious macarons. And with such a beautiful assortment it will be difficult to choose which ones to get. Our favorites are the Chocolat Viennois with Chantilly Cream and the Croque Monsieur.
laduree.com – 398 W Broadway
Il Mulino
Would it be overzealous of us to say that everything here is good? Because it is. The modern steakhouse and Italian restaurant features cuisine inspired by the Executive Chef Michele Mazza. And if that doesn't give you enough confidence in the selection, everything they do is proudly influenced by their success at their other New York locations. And if we must give you a suggestion, get the Hanger Steak (grilled, aged with roasted potatoes), or the Spaghetti (with fresh tomato and burrata). But, truly, everything is incredible.
ilmulino.com – 331 W Broadway