15 Dec

Restaurants WE LOVE – Meatpacking District
Bubby's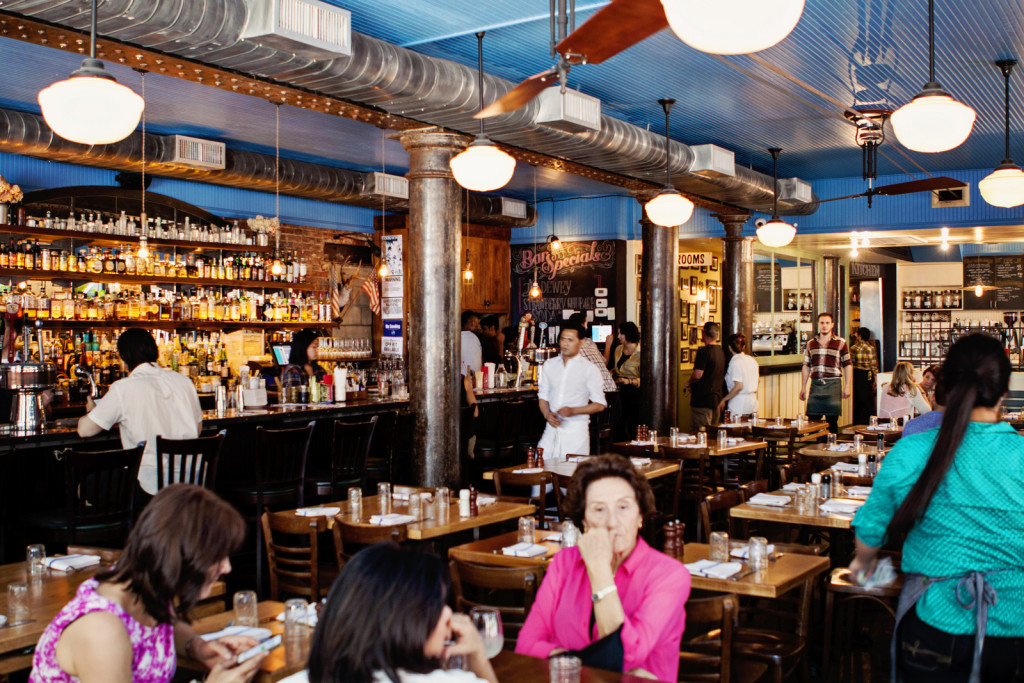 BRUNCH
With a goal to be "wholesome and inclusive," Bubby's makes you feel more like a local than a traveler (although both titles are good in book). Come on a Saturday or Sunday for their WeekendBrunch: Bubby's Pancakes (James Beard's classic recipe with Doerfler's Maple Syrup, fresh fruit and seasonal compote), Bubby's Breakfast (three eggs any style with chorizo, house-cured bacon and arugula salad), or the Egg & Cheese (choice of chorizo or house-cured bacon). Don't forget to check out the soda fountain. So whether you're a neighbor or
a visitor, you're welcomed by Bubby's.
www.bubbys.com/our-restaurants/high-line – 73 Gansevoort St
Bagatelle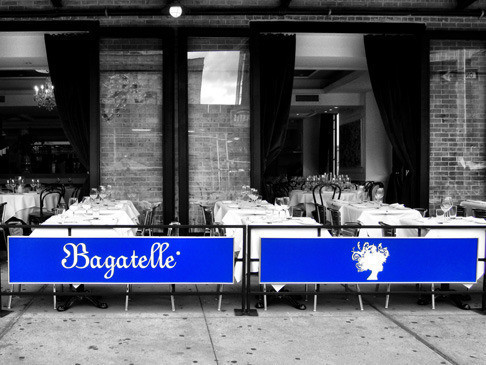 PARTY – BRUNCH
Chef Sébastien Chamaret's French and Mediterranean style fare promises that you'll be in good hands for brunch. And isn't that what we all strive for, a beautifully created midmorning meal with a few close friends? We love their To Share Or Not To Share options, such as Bagatelle Pastry Basket (chef selection of assorted breads and pastries), and Assiette de Fromages (seasonal selection of cheeses). But if you'd rather go solo, order the Omelet (lamb merguez, artisan goat cheese), or the Nutella French Toast (homemade brioche, Nutella, fresh raspberries).
www.bagatellenyc.com – 1 Little W 12th St
The Standard Grill
LUNCH
Located at the bottom of The Standard Hotel, The Standard Grill meshes industrial with fine-dining. Their penny-covered floor will make you feel as vintage and chic as the building's structure. And their dishes only add to the allure. We love their lunch menu; its various plates, such as the Maine Lobster Roll (lemon-paprika aioli, fines herbs, cornichon), and the Baby Carrots (quinoa, mole vinaigrette, avocado) will leave you feeling satisfied and elated.
www.thestandardgrill.com – 848 Washington Street, at 13th Street
Santina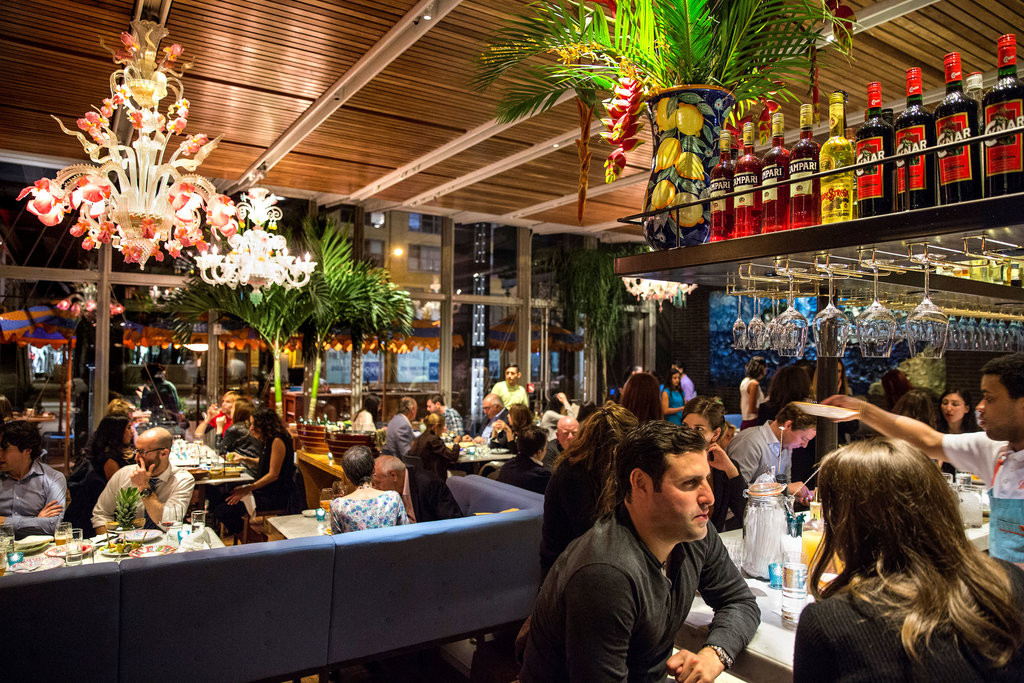 LUNCH
For a fun atmosphere, dine at Santina. With their periwinkle sofas that replaces chairs and palm branches as centerpieces, you can't go wrong. And if it's lunch you want, this is the place. Their dishes are simple yet vibrant. We love the Shrimp Zingara (tomato, olive) and Bass Agrigento (blood orange, peppers). For something more adventurous, order one of the Tuscan chickpea pancakes: Calabrian Tuna (spicy tuna tartare), Funghi (nebrodini mushroom), and Avocado Trapanese (tomato, almond pesto).
www.santinanyc.com – 820 Washington St
Il Mulino a Vino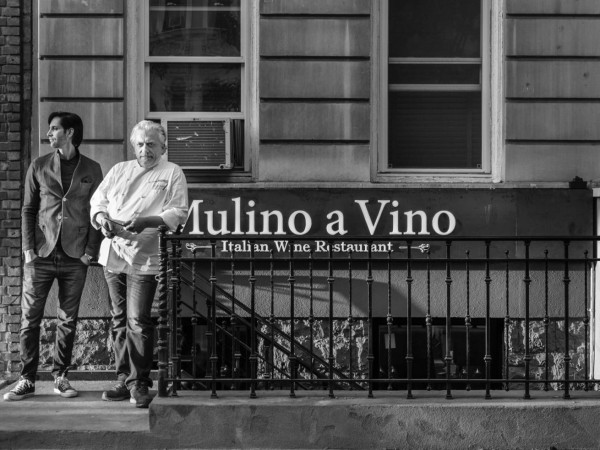 DINNER
Italian small plates – They will serve the food according to your wine selection
When a restaurant serves your food according to your wine selection, you know you've made it. The dimly lit and antique-looking wooden furniture only adds to the mix for a idyllic Saturday evening in the city that never sleeps. As for their dishes, we recommend going with small plates to share. Ravioli Cacio e Pepe (Fresh homemade ravioli filled with Cacio e Pepe, green pea puree, and prosciutto chips) and the Pollo Alla Diavola (tender, slow-cooked, spiced and spicy chicken served with a beet reduction) are our personal favorites. If you're with a group of friends, you may want to get one daring plate, such as the Octopus Alla Genovese (roasted octopus with green bean puree, potato, and pesto sans garlic).
www.mulinoavino.com – 337 W 14th St
Spice Market
DINNER
Hothouse décor and Southeast Asian street foods is what makes Spice Market. This warehouse-like space will transport you to another realm and the food will only extend your stay. We're not complaining. Come for dinner and enjoy the Grilled Chicken Satay (coconut peanut sauce), the Charred Chili Rubbed Rib Eye Skewer (Thai basel dipping sauce), or the Black Pepper Shrimp (sun-dried pineapple). Transport back to New York City feeling revived and a little bit more cultured.
www.spicemarketnewyork.com – 403 W 13th St
Fig and Olive
DINNER
Fig and Olive create a community within a restaurant with their shared wooden tables, and we love it. And with a passion for using wholesome ingredients for their Mediterranean-inspired dishes, you'll want to dine here more than once. Begin with a cheese plate (Fig Jam, Marcona Almond & Toast, Gorgonzola Dolce, Focchetta Robiola, Fromage de Chèvre, Manchebo). As for entrees, we suggest the Salmon Crudo (orange, grapefruit, dill, lemon, scallion, Arbequina Olive Oil), Roasted Beet (goat cheese, scallion, Ayala spice).
www.figandolive.com – 420 W 13th St
Buddakan
DINNER
Rock Shrimp – Dumplings – Noodles
This second wave by Stephen Starr has made its mark in Meatpacking. The high ceiling, oak-covered walls and illuminated bookshelves make the space feel as if you've gone back two-hundred years or so. The dishes are dynamic, such as the Wild Mushroom Chow Fun (garlic chives), Black Bean Scallops (Chinese bacon, shiitake mushrooms, shishito peppers) and Lobster Egg Rolls (shrimp, Thai basil, sweet chili).
www.buddakannyc.com – 75 Ninth Ave
Toro
DINNER
Rock Shrimp – Dumplings – Noodles
Placed in the iconic former Nabisco Factory, this incarnation of Boston's Barcelona-style tapas bar will treat you right. With an emphasis on fresh ingredients, you'll right fed right, too. For something hearty, go with the Tortilla Española (egg, potato, and onion omelet with aioli); as for something more light, try the Carabineros (scarlet shrimp with charred lemon and olive oil).
www.toro-nyc.com – 85 10th Ave