05 Mar

48 Hours in the West Village
Jane Hotel
With its élite air, The Jane is notorious in The West Village. The grandiose space has an old-world, too-chic-for-modern-society quality, and the design only adds to the bravura. It's covered in antique rugs, wing, tufted chairs, velvet curtains, and a marvelous fireplace. Fall into the atmosphere with the live music, constant dancing, specialty cocktails—like The Punjab—and imported beers. If you're feeling bold, grab a stranger to dance with. They're probably feeling as elated and buzzing as you are. After all, Carpe diem.
thejanenyc.com – 113 Jane St
Waverly Inn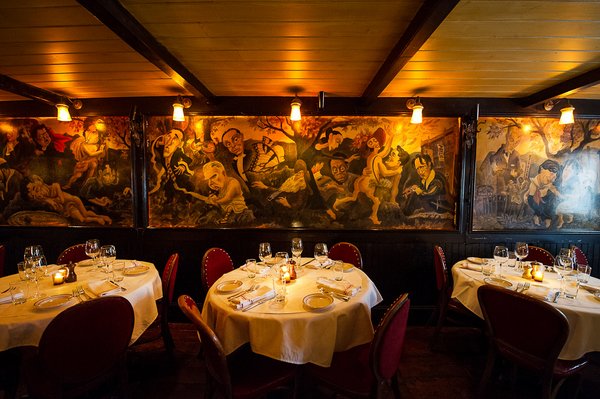 Another one of John DeLucie's inventions, Waverly Inn is the archetype of the West Village's aesthetic. Its bohemian space will have you feeling as if you are only a table away from the Beat writers Jack Kerouac and Allen Ginsberg. The menu is posh yet raffish, a mirror of the neighborhood. We like Amish Chicken (potato terrine, bitter greens, balsamic-glazed cipollini and a mustard jus) on regular days, and Grilled Octopus (peanut potatoes, green goddess and lemon) on days when we are feeling exceedingly more adventurous. Whatever day it is for you, make sure to order a side of the French Fries or Grilled Asparagus. And don't forget to bring your copy of On the Road to read while you wait for your food.
waverlynyc.com – 16 Bank St
Saturdays
Coffee connoisseurs and lovers of West Coast-inspired apparel can rejoice, because Saturdays encompasses both. And if you thought the medley couldn't get any better, the interior design proves otherwise. Lined with large windows with built-in wood benches and wood shelves with piping for support, it's industrial meets classic. While you admire the space, don't forget to order a latte to accompany you as you browse the clothing or simply as you sit and read. Also, don't forget to snag one of their signature Saturdays shirts before leaving.
saturdaysnyc.com – 31 Crosby St
Robin Rice Gallery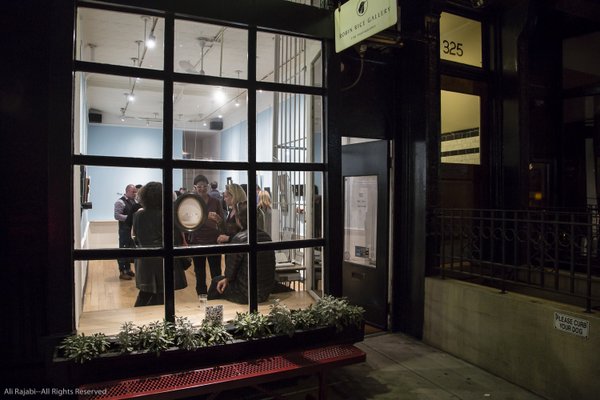 robinricegallery.com – 325 W 11th St
Spotted Pig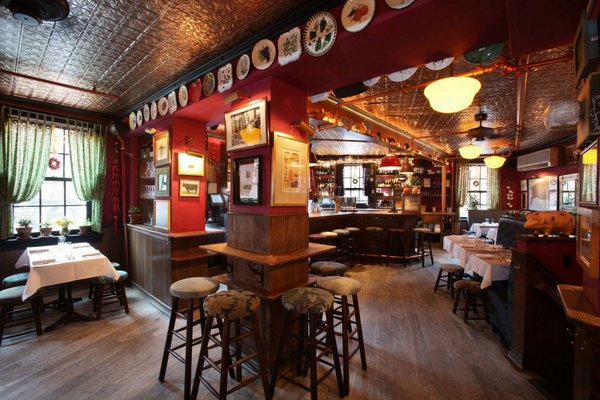 This is New York City's first gastropub (opened in 2004) and it is still a celebrated spot among both locals and travelers. Don't let the neon magenta exterior fool you. Once you step inside, you'll find an airy space with exposed brick and rows and rows of tables topped with white tablecloths. The atmosphere is fun and adventurous, and you'll feel likewise so order accordingly. For all of your carnivore needs, try: Pork Rillete with Mustard, Pickles & Toast; Crispy Pig's Ear Salad with Lemon Caper Dressing; Skirt Steak with Creamed Kale & Sauteed Wild Mushrooms. For a more Americana meal with a French twist, order the Chargrilled Burger with Roquefort Cheese & Shoestring Fries. You'll walk out with vigor in your step, we're certain of it.
thespottedpig.com – 314 W 11th St
Monocle
In need of some unique items to jazz up your space? Monocle has got you. This contemporary publication and store know design. Right now we can't help but rave about their collaborative snug double-cloth throw with Eleanor Pritchard. It's available in grey or blue, with white-checked backs. How versatile is that? But if warmth is not what you're looking for, we also love their brass bookends from their Brass Collection. Minimal and well-made. What more could you want?
monocle.com – 535 Hudson St
Urban Zen
Known for their sleek designs, Urban Zen is the calm before a beautiful storm. Their pieces will undoubtedly liven up any space, creating an uproar in the mundane. We love their White Raku Vase with Black Graphic, and feel that it goes well in any room—bathroom, kitchen, hallway, living room, dining room, or bedroom. Now, allow this to zen create a splash.
urbanzen.com – 705 Greenwich St
L' Artusi
For a modern perspective on Italian cuisine, dine at L'Artrusi, named after the 19th century Italian businessman and writer, Pellegrino Artusi. It is notorious for being the best Italian downtown, and we have to agree. With its marble countertops and charcoal walls, it is both sophisticated and moody, and its dishes are just that, too. For a pasta, order the Ravioli (butternut squash, brown butter, sage, parmesan). If you want something with a bit more provision, we love everything under Carne, but our personal favorite is the Roasted Chicken (hen of the woods, scallion). It is such a simple plate, yet you will find yourself dreaming about its sapor for the weeks to follow.
lartusi.com – 228 W 10th St
Double RL
For a true American shopping experience, Double RL is a must. Their West Village location is nestled in a cozy block on Bleecker Street, giving a nostalgic aura to everyone who grew up with the brand. The space reminiscent of some cottage nestled on Connecticut's coast with its plaid blankets draped over leather reading chairs and sturdy wood floors. If you long for something cozy and sophisticated, Double RL is idyllic for you.
ralphlauren.com – 381 Bleecker St
Goorin Bros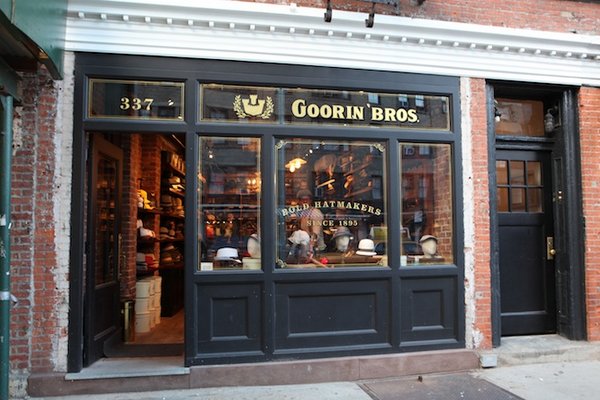 If you love sturdy, chic wide-brim hats, you'll love Goorin Bros. The shop began in Pittsburgh in 1895 with Cassel Goorin on a horse-drawn cart that was spilling over with hats he lovingly crafted. Sans the horse-drawn cart, not much has changed. Rich in history, the space is a nod to late 1800's interior design and the employees dress accordingly to the era, too. Stop by Goorin Bros. before a day at Central Park, or any day, for that matter.
goorin.com – 337 Bleecker St
Employees
Want to feel as if you're on the inside of a club? Then Employees Only is your dwelling place (or, club). Alcohol aficionados can rejoice, because it's mixology at its best here, truly. We love their West Side (Charbay Meyer Lemon Vodka & Fresh Squeezed Lemon Juice Shaken with Fresh Mint). Also, it's a speakeasy. If these factors don't already make it sound alluring enough, everything is dark, moody and very, very vintage feeling. It's like you've been transferred to a secret party during Prohibition. And it has the thrilling atmosphere to match. To be elite or not to be elite. It's definitely the question, but with Employees Only, we're choosing the former.
employeesonlynyc.com – 510 Hudson St
Buvette
Located on cozy Grove Street, Buvette is the ultimate breakfast and brunch spot with French roots. Their rich wood and exposed brick interior will make you feel as if you are at their café in Paris, especially with one of their ambrosial espressos in hand. To top off that espresso, try one of our favorite savory plates of theirs: CR Q Monsieur (a classic ham and gruyere on toast). Or, if you're in the mood for something with more protein to help you begin your day, Poached Eggas (poached egg over lentils and kale) is the perfect medley of rich greens, legumes, and a runny egg to keep you going. We also love Frits à l' amèricaine (sunny side egg with bacon and sage). The sage adds an innovative take to this very classic breakfast dish and we absolutely love it!
buvette.com – 42 Grove St
IFC Centers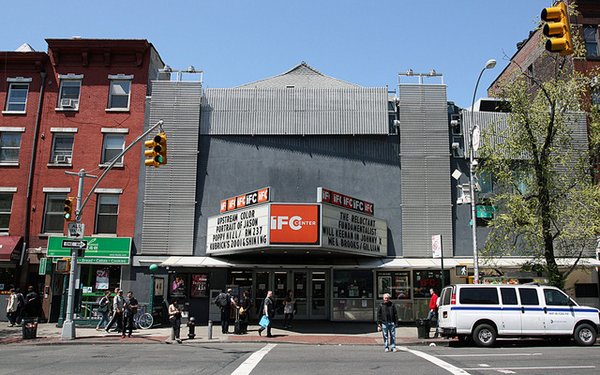 With a film school under their belt, IFC Centers doesn't mess around. They are considered "the ultimate entertainment space for New Yorkers seeking out the best in independent films," and we can't help but agree. And with organic popcorn at the concession stand, vintage movie posters in the hallway, and short film screenings before every feature, who can resist? They also host a documentary festival every November.
ifccenter.com – 323 Ave of the Americas
Adelaide
Although located in a garage and trucking warehouse, Adelaide is anything but shabby. This West Village spot is loved by its neighborhood for its modern, sophisticated use of space. We love their plethora of vintage goods. Our current favorite is their 1950's Arno Jacobsen Chair for Knoll. Place that piece of vintage in any living space and it's automatically transformed.
adelaideny.com – 702 Greenwich St
Algus Greenspon
Angus Greenspon more than just a gallery. It's an experience. The space is vast and minimal, allowing the focus to be on the works. From Gene Beery to Adriana Lara, Algus Greenspan understands the vitality of diversity. And he's been doing this for over twenty years, so his knowledge of the art realm—especially in NYC—is expansive.
algusgreenspon.com – 71 Morton St
Maccarone
This contemporary art gallery's doors were first opened in 2001 after Michele Maccarone renovated an abandoned electric store on Canal Street. Since then it has taken off, allowing a location in Los Angeles, too. And its accolade of artists is impressive, ranging from Oscar Tuazon to Daniel Roth. We love their exhibition of Keith Sonnier's work for Portals and can't wait to see what they curate next.
maccarone.net – 630 Greenwich St
Little Branch
With homage to "the old rules," Little Branch is an experience in of itself. The space is warm and snug, with mustard-painted walls and an orange ceiling made with corrugated steel. The stuff is both friendly and determined, smiling at costumers while briskly mixing drinks. The cocktails are mainly old-fashioned, such as their Queens Park Swizzle (Trinidadian version of a mojito). And don't forget to ask your bartender for some recommendations based on the liquor you favor, because Little Branch has a book chalk full of them.
20 7th Ave S
Ovando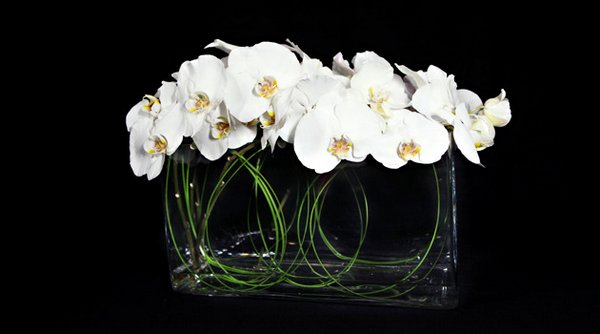 The neighborhood's most acclaimed floral design and event production firm rests humbly on Christopher Street. Its efflorescent creator, Sandra, uses her Spanish and Russian heritage to develop her passion for the brightly exotic. Each piece is artful, which is why she's done floral designs for The MoMA and Hermès. Her Fall Collection, focusing on both blooms and foliage, is sleek and warming. One of Sandra's favorites, Fall Textural, is one of ours, too.
ovandony.com – 19 E 65th St